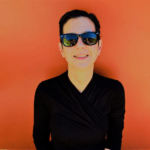 SUSAN IBITZ
HUMAN BEHAVIOR HACKER
Imagine LEARNING a SUPERPOWER... Imagine being able to read people like a book.
Susan is a Human Behavior Hacker- some people hack computers she hacks humans.
Susan Ibitz mission is to reach, teach, and train others to unlock the science behind human behavior.  Being a "Human Behavior Hacker", and drawing from multiple decades of expertise, Susan Ibitz is an internationally known human behavior expect; both speaking and training with a wealth of real-world knowledge and theory in the U.S., South America, Mexico, Europe, and the Caribbean.  
Understanding the nonverbal human behavior-face reading, body language, and micro aggressions-gives greater depth and knowledge to how to decode individuals and groups. Trained by the experts in her field;  CIA, FBI, U.S. Military, International Military as well as Level III Hostage Negotiator; no job is too small or large for Susan to get results straight away.  
Decade long relationships getting companies, governments, and individuals to a deeper understanding of both self and company make Susan Ibitz tick. Utilizing these skills to increase sales, team productivity,  employee engagement, team building, strategy, effective communication, marketing, and growth.  
Trained by the CIA, FBI, U.S Military, International Military, as well as a Level III Hostage Negotiator;  Susan is dedicated to assisting governments, companies, and individuals not only to understand, but recognize individual's hidden emotions, intentions, and potential behaviors.  
By decoding nonverbal human behavior, Susan's Ibitz interrogation consulting work has added to numerous police departments resolve past and on-going criminal cases, train teams, as well as assist in legal. Susan also serves as a frequent guest lecture, speaker, keynote presenter, and across academic and government field's.  
Fluent in Spanish, Portuguese, English, and most importantly, body language, micro-expressions,  linguistic forensic analysis, and face reading with a mask or without, Susan Ibitz can tailor knowledge,  networks, and background to suit one's needs. 
Previous clients include State, local, and national governments, and Hospitality Groups. For obvious reasons, not all can be listed as confidentially is another specialty. 
Susan has trained, consulted, and worked with people and fields such as:
Journalist & Producers.

Politicians & political campaigns.

Law Enforcement-Realtors.

Lawyers.

Market Research.

Insurance Fraud.

Headhunters.

Match Makers.

Managers.

Love life.

Medical field professionals.

Sales team.

Job Seekers.

Sperm Donor Selection.

Couples compatibilities.

Human Resources Professionals.

Negotiation.

Hospitality & Customer-oriented services.