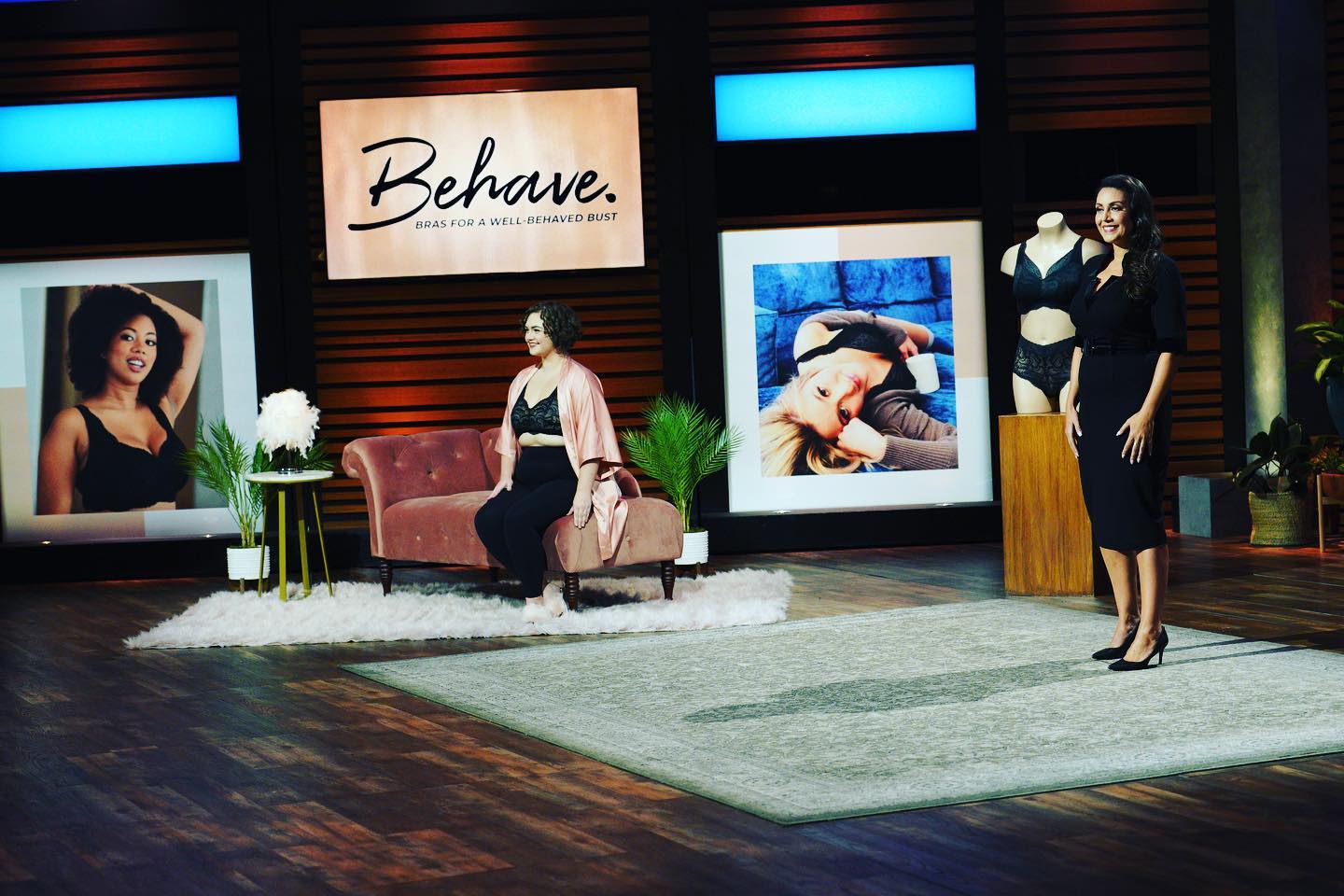 Athena Kasvikis | CEO and Founder of Behave Bras | Season 13 winner on Shark Tank
When I was preparing for the biggest moment of my business career, I knew I was missing something. I had prepared so much that I could recite my numbers in my sleep. I could tell you exactly how long my pitch was to the second and could recite it at will. But I wasn't prepared enough and I knew it. I just didn't know what I was missing but I knew I wasn't ready.
That's when I found Susan and it was just in time. She was and continues to be, my secret weapon! She put together a customized program to really prepare me to win and put her entire heart and soul into my coaching. Not with the right business information as I had that already, but with the right tone and language and presentation of myself. She honed me into a sharp knife and made me a more highly impactful version of myself.
It's important to feel completely confident, and Susan helped me to upgrade my skills in presenting my business and myself to accomplish each and every goal I had set. I couldn't have done what I did to the extent of the success that I've had without her - and that's the truth.
She didn't just contribute to me winning in the biggest moment of my business career, but taught me skills that I can use going forward so I can continue to be my most confident and effective self. I am forever in her debt and cannot possibly recommend her highly enough. She's one of a kind and I consider her an indispensable member of my team.
Scott Tillema Police Lieutenant | TEDx | Negotiation Instructor
My first-time meeting & learning from Susan Ibitz BA, SCAn,CFR III,MBTI was a two hour one on one session. Imagine sitting with someone who is a face reader, micro expression and body language specialist, and a master linguist..! There's nowhere to hide! She's someone I want on my team!
Steven B. | Chicago lawyer

"Solely from looking at a photo on a website, Susan Ibitz of Human Behavior Lab provided me with a remarkable, spot-on assessment of a lawyer on the opposite side of my case. Her insight helped me to tailor my negotiation style and bring the case to settlement."
Dave Lorenzo | The Godfather of Growth

I interviewed Susan for The Inside BS Show. Her incredible gift for understanding people absolutely blew me away. Susan delivered tremendous value to my audience and me right from the beginning of our time together. She was able to cold read me, while we were on the show, and her assessment was spot-on.
The quality I admire most in Susan is her practical application of human psychology in business. She demonstrated this in example after example in the fields of sales, interpersonal relationships, and the practice of law. Susan is an expert, consultant, and storyteller. She has the ability to captivate an audience and assist in persuading them to see a new point of view.
Susan has my highest recommendation for any work that involves influence and persuasion. Engage her to be your secret weapon to close the next big deal or win the next big case.
Lieutenant Mark Lowther (Ret.)-Weber County Sheriff's Office- Former Hostage Negotiator
I served 24 years and retired as a Lieutenant with the Weber County Sheriff's Office in Utah
Susan Ibitz was one of my students for the 40-hour basic class and once again for the 40-hour advanced certification class. Although a civilian I found Susan was able to quickly grasp the topics and was an excellent student. Susan was engaging, intelligent and completed the homework assignments with a great deal of insightfulness and detail. I have in fact taken body language training from Susan since her last attendance in my classes.
I strongly believe your company would greatly benefit having someone of Susan's background, character and intelligence. I without hesitation recommend Susan Ibitz
 Marty Gilbert-NSENG Founder/CEO & Job Search Coach
After just a 15-minute phone conversation with Susan, she sized me up very accurately just by hearing my voice— I was hugely impressed
Liat Sacks, M.Ed, BCBA Founder at StudyNotesABA
This lady is something I have never seen in my life. Her skill to read the human being is literally INSANE! She is so talented, real, human. You can't help but be in absolute shock when you hear here prove her qualifications. She read my face and I've never had someone get inside my soul within three minutes. She has such a great energy and all I want to do is spend more time with her!!! I can't say enough good things!!!!!
Jeff Peterson- CEO- Geneva Supply
"It's not every day someone you don't know looks at you with a perplexed look and tells you everything about who you are, and even who you could be.
Susan Ibitz is one of the most fascinating individuals I have ever met, and has a trained skill that now has me looking at her perplexed. She connects, inspires and educates and will be an asset to you or your company if you just look in her direction."
Shelton Banks- CEO of Re: Work Training
re:work training is a nonprofit career training program focused on tech sales and we rely on volunteer coaches to provide expertise that will help our candidates succeed.
Susan's presentation on applying micro-expression and face-reading analysis to everyday sales process was one of our most enjoyable and engaging classes to date based on candidate feedback.
The insight Susan shared will also benefit our candidates well beyond prospecting buyers and help them better navigate a professional setting and work relationships, which our huge value adds for individuals who may have never worked in tech or an office environment before.
Susan has helped re:work internally by accurately analyzing how we work together and giving advice on how to improve our team dynamics.
For this skill, she is a big hit at our community events where she has given guests insight into their own personalities and how to apply human behavior analysis and face-reading on the fly to improve professional and personal outcomes.
We would highly recommend her for any event where developing this type of skill set would be useful.
Blanche Roberts- CTC Chicago
Susan has facilitated two of the most highly attended workshops offered at the Career Transitions Center –not only is the topic intriguing and fascinating within the context of career transition – Susan's passion and professional knowledge in this area are compelling.
Her programs on Body Language, Micro-Expressions, Face Reading Techniques help our clients be more aware of how they (and others) communicate – beyond the words they speak, which is indeed another dimension of "emotional intelligence".
She offers science, skills-know-how and fun in her workshops! She takes the time to listen to the participants to tailor the 2nd program to address their specific interests and concerns.
She then offers pragmatic ways for clients to prepare for networking, interviewing (both in-person and via video/visual settings).
With this information they can be even more present to inter-personal cues in order to respond more fully and quickly. In their own words, CTC Client have shared:
Both workshops combined were excellent. I now have knowledge that I can use every day. The instructor was a very engaging speaker and smart as a whip!
I loved Susan's energy and humor! She was very engaging.
Milena
Finally, I received an offer for the appointment you coached me. I am afraid to become addicted because all you have told me happened!! And even how they described themselves!!
Katie Intrater- Israeli Cancer Assoc
My charity hosted an evening of roundtables that included some of the most impressive and influential Chicago executives and trendsetters.
Susan was hand-picked by the leadership board as one of these chosen mentors, and she absolutely blew everyone away within the first 5 minutes of her presentation.
As an event speaker, Susan's ability to genuinely connect with everyone at the table by simply sharing her knowledge and skills truly sets her apart from other presenters. The attending young professionals could not stop discussing how interesting her insights were and what a valuable learning resource she was to them.
Now, a year later, she is at the top of our list to invite as a returning mentor.
Not only is Susan one of the most fascinating people I've ever heard speak, but she is also incredibly kind and extremely generous with her time. She would be an asset to any event you choose to host.
Jodi-SHRM- HR
Susan presented at our SHRM chapter of HR professionals, The Science Behind Human Behavior: New Research Providing insight into Facial Features. It was a fascinating presentation and touched upon areas the audience never even considered when recruiting candidates.
Susan's spoke about how to read people in interviews and use this to determine if they would be a good fit and if they are being truthful.  The audience was so engaged, we ran out of time to ask more questions.
Susan is passionate about this topic and has a great energy. I would definitely recommend Susan to speak at an event-you will be shocked by what you learn!
HR Keynote conference-Wisconsin-
Susan's presentation will get the crowd involved and engaged as the material she presents is relevant and fascinating.
While presenting at our event, she made sure the information covered was relevant to our target audience, HR professionals, and how facial features and gestures can assist in the hiring process, managing people and improve overall communication.
We would recommend Susan speak to your company or targeted audience as I'm sure she will keep them engaged and at the edge of their seat with the information she covers.
Lynda- HR manager
I am so intrigued by this topic - you really had us all sitting on the edge of our seats. Great job!
Karin
Your workshop was fantastic!!!
I loved Susan's energy and humor! She was very engaging.
Had a lot of knowledge and was a lively and engaging presenter.
The presenter is dynamic and funny to keep her audience focused on a very original subject. Susan is professional.
W.K
Susan Ibitz gave a fascinating lecture to a group at the Levy Senior Center in October 2019. The audience was intrigued and listened intently, spellbound by Ms. Ibitz's research and photographic examples. Thank you, Susan, for sharing your knowledge with us!
Cindi
I wanted to thank you again for taking the time to look at my former boss's photo and profiling her for me.  The information has been so validating for me. You are so good at what you do! I'm very much looking forward to your workshop tomorrow morning!
Jody S 
"Thank you for taking the time to do this for me are the coolest thing I've seen in a long while! I hands down I want to do what you do!  I showed my wife, she said it was spot on my face reading."
Nancy
Thanks a million for a truly incredible session yesterday! I can't wait for next week!
Chris
I am one of your biggest fans! Thank you for dedicating your Friday time and coming to share your gifts, talents and learnings. I have been enriched by each class I attended.
Emily
First off, I wanted to thank you for coming to speak to us tonight at Loyola University. I thoroughly enjoyed your talk and it truly reminded me why I got interested in psychology in the first place... to be able to understand people and see how they are and why they may do certain things and predict their behavior.
Joanna- CTC 
Susan is a great personality. Engaging and takes time to help students.
Joseph- CTC
Both workshops combined were excellent. I now have knowledge that I can use every day. The instructor was a very engaging speaker and smart as a whip!
Ania
I have attended Susan's workshops and found them informative, edgy, useful and absolutely transformational. Her teaching style is one that holds you at the edge of the seat and will fit any style of learner keeping them engaged and leaving them wanting more. But even beyond her amazing expertise and professional persona, you will first and foremost find a deeply caring and compassionate person, who works amazingly hard trying to improve the lives of those who cross her path. You want to cross her path!
She will forever change for the better the way you understand and relate to people in both professional and personal setting.
Joseph
Susan is driven by expanding mutual knowledge. Her quest to learn how something works and then share, teach, mentor and train is the drive that keeps her up late at night and offer so much of herself for the advancement of her peers, colleagues, students and friends. Her classes are filled with enlightenment and entertainment, with a bunch of "I don't believe it!". Then she shows you why to believe it.