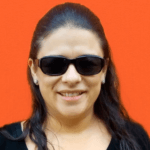 ELBA ORIVE
HUMAN BEHAVIOR HACKER-LATAM
Who am I? I'm passionate, crazy, curious, and in love with life. I'm Elba O. and I was a Hospitality professional for many years.  Working with people every day gave me a unique approach to how people behave. Without knowing, I was reading people. Well, I didn't know that until 2018, when I started working in Human Behavior Lab as a researcher.  Before I knew it, I was learning and understanding others, which came natural to me.
I am a mother, friend, sister, and a Human Behavior Hacker, which means I can see you before you even notice me. I started working at the Human Behavior Lab in 2018. What about my academic background? I studied Hotel Management. These studies have given me the skills needed to be a good planner, be in touch with people and give an excellent service in everything that I am set to do. After this, I started my journey to become a Human Behavior Hacker. The first step was to learn to read faces. I got certified for Face Reading III. I moved on to Micro Expressions and got certified at Humintell. Here I received two more certifications; Micro Expression Master Level and Micro Expressions (Professional) Master Level.
Additionally, I have specialized in Body Language. I'm a Certified Coach on Face Reading, Micro- Expressions and Body Language. I am in charge of all the training for LATAM and I manage our Latin America Office. Come learn a Superpower in Spanish with me. Come learn the art and science of a new language. ¡Te espero!