Top Areas for Hiring & Recruiting Trends to Watch for 2019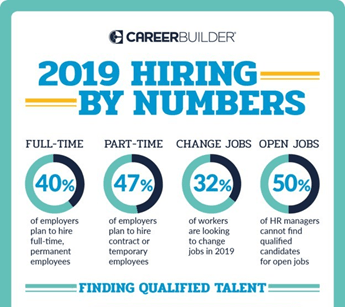 Recruiting Trends to Watch for 2019
The job seeker experience is paramount: HR managers (36 percent) cite improved user experiences for candidates, employees, and hiring managers as a top priority for recruitment and HR management going into 2019.
Efficiency is critical: HR managers also say helping recruiters to be more efficient in filling roles faster with higher quality candidates (29 percent) and expediting background checks (24 percent) are seen as top priorities for recruitment and HR management going into 2019.
Streamlined communication: Twenty-two percent of HR managers believe technology will be most beneficial in helping manage and maintain regular communication with job candidates during the application process. To simplify the process, CareerBuilder's new TD Companion App enables hiring managers to communicate directly with candidates through text message and email.
Speak the same language: Recruiters speak one language and candidates speak another; it's no wonder 39 percent of HR managers say technology would be most beneficial in helping with sorting through applicants to identify top candidates and remove candidates that are not qualified. CareerBuilder has crossed the language barrier with the use of AI and semantic search to halve the applicant to hire ratio.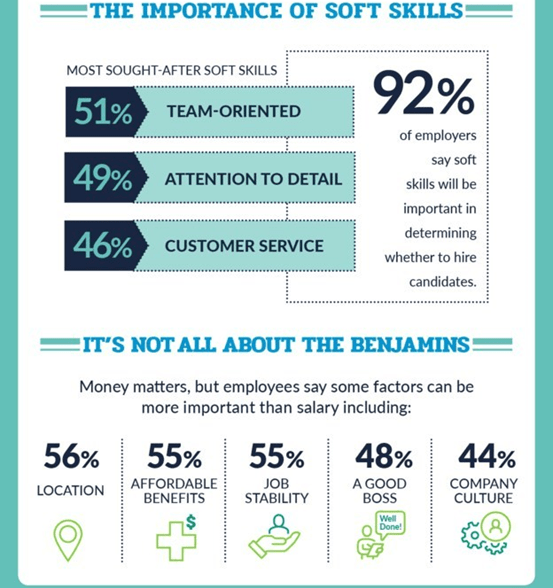 Perfecting the process: Bad hires can negatively affect companies, and the main ways they impacted employers' businesses last year were less productivity (28 percent), they negatively impacted employee morale (25 percent), and they drove up costs for recruiting and training other workers (24 percent). Additionally, employers who have had a bad hire affect their business in the past year estimate the average cost of a bad hire is more than $18,700.
Top Areas for Hiring in 2019
As new technologies are constantly introduced, legacy industries are being transformed and the need for workers with specialized, high-tech capabilities is on the rise.
In Demand Areas for Hiring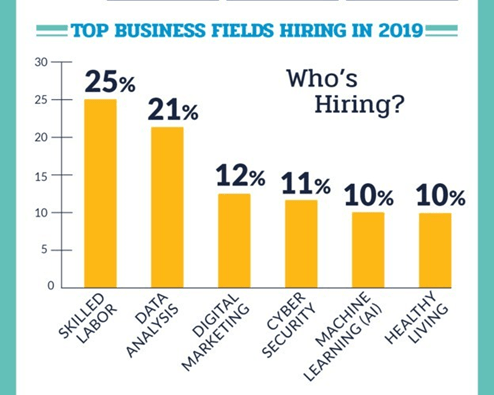 Jobs tied to skilled labor: 25 percent

Jobs tied to data analysis: 21 percent

Jobs tied to digital marketing: 12 percent

Jobs tied to cyber security: 11 percent

Jobs tied to AI and machine learning: 10 percent

Jobs tied to healthy living: 10 percent
Hiring by Region: Where Employers Are Hiring Full-Time, Permanent Employees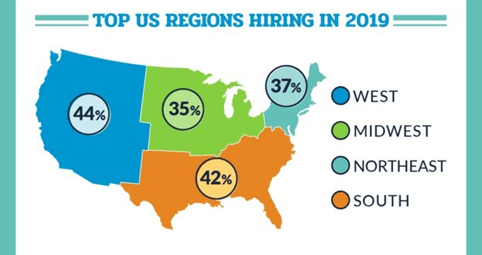 West: 44 percent

South: 42 percent
Northeast: 37 percent
Midwest: 35 percent
This is a partial report done by : http://press.careerbuilder.com/2019-03-05-Forty-Percent-of-Employers-Plan-to-Hire-Full-Time-Workers-This-Year-Forty-Seven-Percent-Recruiting-Part-Time-Workers#assets_20295_123392-117
For media inquiries & bookings call 708-374-7449